2022-10-22
---
Terminal 3.9.9.4
Terminal 3.9.9.4 has been released.
Changes have been described on the support page
2022-10-01
---
New company address
Our ne company address since 1.10.2022
OTC S.A.
ul. Skotnicka 189
30-394 Kraków
2022-04-07
---
Terminal 3.9.9.2
Terminal 3.9.9.2 has been released.
Changes have been described on the support page
2020-12-29
---
Terminal v. 3.9.8.3
Terminal 3.9.8.3 with multidomain and wildcard certificates support for html client has been released.
Changes have been described on the support page
2020-03-23
---
Changes in work organization
Dear customers and partners.
Due to the epidemiological situation throughout the world, we have changed the organization of work in our company. Most employees work remotely, and a small number of people are on duty in the office. That is why we ask for your understanding in case of difficulties with contacting our specialists by phone. In case of problems we recommend contacts via email.
Greetings,
OTC Team
2018-06-13
---
Terminal v. 3.9.6.1.
Terminal 3.9.6.1 with multidomain and wildcard certificates support for html client has been released.
Changes have been described on the support page
2011-05-11
---
New www.winflector.com site
Welcome to new www.winflector.com internet service dedicated to Winflector product.

Winflector is similar to Terminal GUI product but without some extentions related to CA-Clipper and xHarbour/Harbour applications. Winflector supports Windows GUI and Console applications launched using wfc.exe/gte.exe client. Winflector does not support modified Clipper/xHarbour/Harbour applications used to be launched using te.exe and te32.exe clients.
xHarbour/Harbour RPC extentions are also not supported.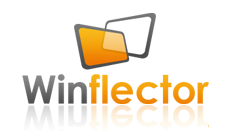 More ->
2011-03-24
---
Terminal 3.0.0.0
Terminal 3.0.0.0 has been relased. Among the changes: very useful function of automatic client updates with the ability of updating the user files as well. Unified application logs, new installers.
2010-11-24
---
Terminal GUI 2.8.0.5
Version 2.8.0.5 with major efficiency enhancements thanks to better compression, asynchronous communication and ability to block ClearType( TM) fonts. First version with full support of the virtual desktop idea. While running on the server applications see the desktop resolution as defined on the client.

2010-10-10
---
New version of Mediator package - 4.3.3.1
We have released a new version of Mediator package - 4.3.3.1. The most important changes: new functions allowing a client applications to use prepared SQL statements and test support for LOB type columns in Oracle and MS SQL Server.
The detailed description of changes can be found here.
2009-06-22
---
New Terminal for GUI and console applications
We are proud to announce the availability of the two new products: Terminal GUI and Terminal Console.

Terminal GUI allows remote work with Windows GUI (graphical) applications. Terminal console allows remote execution of the 32-bit console applications.

Terminal GUI and Console differs from previous Terminal versions/products. It allows execution of the arbitrary Windows applications not only Clipper or xHarbour ones. No changes to original application are required to run it remotely. There are special extention interfaces which allows better integration of Terminal GUI/Console with xHarbour.

More about Terminal GUI
More about Terminal Console
Comparison of the available Terminal products

2009-04-22
---
Version 4.3.0.0 of Mediator package released
New version of the Mediator package has been released. The most important changes include 64-bit Mediator for MS SQL Server and client libraries for xHarbour 1.2.1 and Harbour 1.0. See more detaills.
2008-06-10
---
New OTC e-mail server
We have installed the new e-mail server containing strong antispam modules. In case of problems with your e-mail delivery, please contact us via phone. You can also send your e-mail address via fax to +48126263638 or SMS message to +48601249353.

2007-12-19
---
Version 4.2.6.0 of Mediator package released
Version 4.2.6.0 of the Mediator package is available for download. It supports Oracle 11g, xHarbour 1.0, Harbour Beta 2/3, contains many new functions and some fixes. Details available in Technical support/Mediator versions section.
2006-03-14
---
Terminal for xHarbour - from now for PDAs
The new terminal client has been introduced into 2.2.6.1 version. Now, there is a possibility of using terminal client on PDAs with Pocket PC 2003/2003 SE or Windows CE .NET 4.2. Palmtop version of the terminal emulator (Mobile Te32) cooperates with 32-bit (xHarbour) applications only. It can communicate with the server using TCP/IP protocol via BT/GPRS, WiFi or ActiveSync. A possibility of font adjustment as well as display scrolling allow to run any xHarbour application in terminal architecture. The main limitation of Mobile Te32 is lack of RPCs and unavailability of several function keys.
2006-01-10
---
C++ interface for access to Mediator server and xHarbour
We are happy to announce availability of the new interface which allows accessing of Mediator server and DBF files from C++ applications running on Windows and Linux. The library source code is available so that it can be easily customized and used under virtually any C++ compiler.
2005-06-10
---
Dedicated Mediator and xHarbour COM interface released!

OTC is proud to announce availability of the new product which finally integrates the world of xHarbour with virtually any Windows and Windows.Net development environment.

Now, it is possible to easily access xHarbour and Mediator functions and data from any environment which can create and access COM objects. This includes, but is not limited to:

- Visual Basic
- Visual Basic.Net
- Visual Basic Script
- Java
- ASP, ASP+
- C#
- Visual Fox Pro
- Visual C++
- Visual C++.Net
- Borland Delphi
- Borland C++
- any other COM-enabled language

Finally you can use the old well-known Clipper/xHarbour functions to access DBF and Mediator data from a wide range of Windows and Windows.Net languages.

Enjoy the freedom of choice!

2005-05-04
---
Free Mediator SQL RDD for MySQL!

Dear xBase developers and users!

OTC has an exceptional new offer for you. The offer which opens the easy migration path to SQL for all xHarbour and Harbour developers!

Now we offer full version, unlimited Mediator MySQL RDD for xHarbour and Harbour for free! Not only for development and testing but for commercial installations too!

Mediator SQL RDD is a real RDD driver which allows your applications to work with SQL databases in exactly the same way as they work with DBF/NTX and DBF/CDX files. Consequently, using Mediator, you can quickly adapt your application to work with SQL databases.

Version 4.2.2.1 of Mediator SQL RDD for MySQL, has huge performance optimizations exploiting new features of MySQL 4.1

Enjoy your way to SQL!

P.S. For technical reasons, free version of Mediator server for MySQL available at this writing is a 100-concurrent connections version. If you need larger server, please contact us and we will make one available for you. We are working on unlimited version, so it should be available soon.
2005-02-01
---
Dedicated Delphi interface for Mediator becomes a reality!
We are glad to inform the dedicated Borland Delphi interface for Mediator is undergoing final site tests now. This interface consists of VCL components TMedConnection, TMedTable and TMedQuery which closely follow the interface of TDatabase, TTable and TQuery BDE components. Components can be used to access both Mediator (MEDNTX/MEDCDX) and xHarbour DBF files (DBFNTX/DBFCDX).

Mediator components for Delphi are based upon xHarbour kernel. Apart from the above VCL components there are several low level classes which are used to access xHarbour kernel. Using xHarbour kernel as a foundation for Mediator components enables nearly 100% compatibility between DBF-based applications and Mediator-based applications.

The components can be very usefull for both Clipper/xHarbour and Delphi developers. For more information on this please see documentation.

The release of the components is planned for the March, 2005. Everybody interested in testing the software right now is encouraged to send an e-mail to office@otc.com.pl - we will make it available through limited download.
2004-03-08
---
Mediator RDD free for everyone!
Dear xBase developers!

OTC is proud to announce availability of the new version 4.1 of Mediator RDD.

The good news is that now the best available RDD for SQL databases
is available free of charge for everyone interested!

We have released the following free packages which can be
downloaded from our website and used commercially:

- Mediator Enterprise server for MySQL for 5 concurrent connections
- Mediator Enterprise server for PostgreSQL for 5 concurrent connections
- Mediator Enterprise server for Oracle for 3 concurrent connections
- Mediator Enterprise server for MS SQL for 3 concurrent connections
- Mediator Enterprise server for IBM DB2 for 3 concurrent connections
- Mediator client for CA-Clipper/xHarbour/Harbour/OLEDB for DOS/Windows
- Mediator client for xHarbour/Harbour for Linux

Now its the time to migrate to SQL!
Using together excellent xHarbour/Harbour compilers and Mediator finally moves your xBase applications into 21st century.

Enjoy your application working on SQL database!


2004-03-05
---
Mediator applications run on Linux!
New realease 4.1 of Mediator package includes support for running Mediator applications on Linux platform. Now you can run your xHarbour 0.92 and Harbour 0.43 applications on Linux machines using new client libraries supplied with the latest Mediator release. Please select "Technical support/Mediator versions" for more informations about release 4.1

2003-12-24
---
OTC has become IBM partner
A new promising version of Mediator server for IBM DB2 arise large interest among our partners and customers. OTC extended its cooperation with IBM by signing the IBM PartnerWorld for Software agreement.
2003-12-21
---
New OTC internet service has started!
An english version of our new internet information service has been started.
The new service contains extended and up-to-date information about our products,
FAQ section, and a lot of information interesting to anybody planning
migration of Clipper/Harbour/xHarbour applications to SQL.
In the nearest future we plan to add on-line ordering capabilities and
a price calculator. These features will make the ordering process easier.
We will also extend the service to include OTC partner section
containing more detailed support info for our partners.
We are awaiting your feedback and suggestions related to new OTC service.
We will take them into account when adding new functionality.