Quick and safe




Terminal software allows to run Clipper or Harbour (xHarbour) application in a terminal mode. An application working on a server reacts to a user's keystrokes sent from a terminal run on a different PC computer, retaining the ability to run peripheral devices (e.g. printers) connected to the terminal computer. The application also has an ability to call out procedures connected and executed on a user's terminal and to run a file transmission between the application and a terminal. Programmers have been given access to terminal transaction functions which facilitate keeping the data processed by an application consistent and an ability to control the priority of an application execution on a server.

Terminal package enables the realization of centralized, safe and very efficient software devoted for multi-branch companies. Thanks to the use of our software, writing such applications becomes much easier, faster and cheaper. A centralized terminal architecture ensures a high level of security and it minimizes the network traffic, what in connection with little requirements for working stations offers a high quality level, never seen before in xBase/Clipper applications, and functionality, which has been previously reserved for the world of UNIX and mainframes only.


How does xBase application work in a terminal mode?

A user starts a terminal program on the workstation, which connects with the agent working on a server. The agent runs the requested xBase application and informs the terminal program about running of the application and the prescribed port/socket number. Using the shown port/socket number the terminal connects to the application. After establishing a connection, the terminal sends keystrokes to the application, getting information about the operations changing the screen. The data may be stored in files on an application server, a net server or in a relational database server (a cooperation with Mediator software).
If the data is stored outside of the application server, for big systems there is a possibility to use several application servers.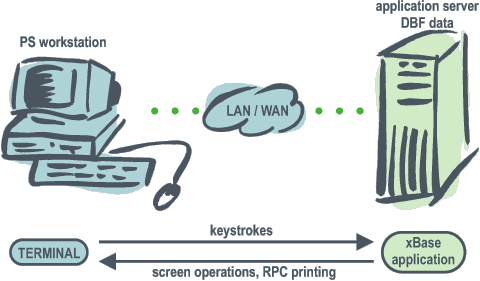 The terminal work of xBase/Clipper application in a version for DBF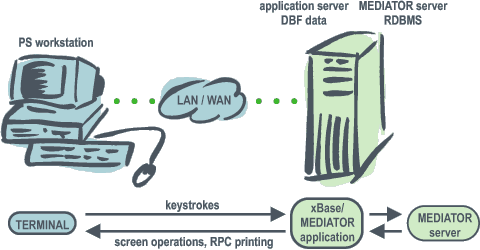 The terminal work of xBase/Clipper application in a version cooperating with Mediator software.
For LAN...
Due to the increased data security, a minimum network traffic and minimum equipment requirements,
xBase
application working in the terminal architecture is the most financially attractive offer to be used in a local network.
... and for WAN.
the amount of data exchanged between
xBase
application and a user's terminal is minimal , that is why this software is so well suited to be used in WAN. There can work several terminals even on connections with very low transfer rate, and the comfort of users' work is only slightly smaller than the one in LAN. The data of all the multi-branch company stored in one place is always up-to-date, complete and ready for analysis. Operations, which earlier required an outside coordination between branches (e.g. a sale of goods from a storehouse of a different branch) or complicated replication and synchronization mechanisms, become relatively simple. DBF version of Terminal is perfect for a realization of remote access to the existing installations with a file server.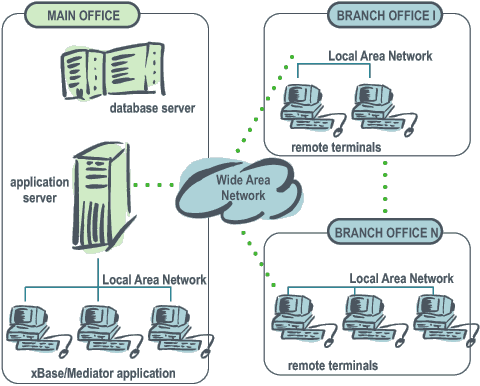 A centralized architecture of a system realized in Terminal technology.
A suggested technology benefits.
System requirements
Server
Processor(s):
Intel Pentium or newer
System:
Windows XP/2003/2008/2012/Vista/7/8 with TCP/IP and/or IPX/SPX protocol installed
Clipper application are supported only on 32bit system.

RAM
64MB + 8-16MB for each session
Terminals
| | |
| --- | --- |
| Processor: | Intel 80286 or newer |
| System: | DOS, Windows with TCP/IP and/or IPX/SPX protocol installed |
| RAM: | 1 MB |
Tools
CA-Clipper 5.2e/5.3b + Blinker 6.0 or newer
Harbour/xHarbour + compiler MS Visual Studio or Borland C++