Stability and Convenience




Terminal GUI software package allows remote execution of 32-bit Windows applications working in graphic mode or in Windows console environment.

The Terminal server launches the application on the application server and redirects the individual elements of the graphic interface, such as windows, menus or icons, to the terminal system, thus allowing effective remote execution.

Terminal GUI package implements a modern, centralized computing environment. It is especially recommended for multi-branch enterprises and businesses. The centralized terminal environment ensures low administration costs, high level of data security and offers great expansion potential.

A comparison of Terminal GUI software with other terminal products offered by OTC is presented in the table. >>>




How does a console application work in terminal mode?

The user starts the gte terminal program on his Windows or Linux computer. The program reads the required session parameters and connects to the server system where the specified application is launched. Elements of the graphic interface of the application are reproduced on the terminal, while the keyboard and mouse events are sent to the application running on the server. Even though the application is executed on a remote server, the users impression is one of working with a local program. The user does not have access to the application server desktop. His access is limited to the windows of the running application. This arrangement is especially recommended for business applications.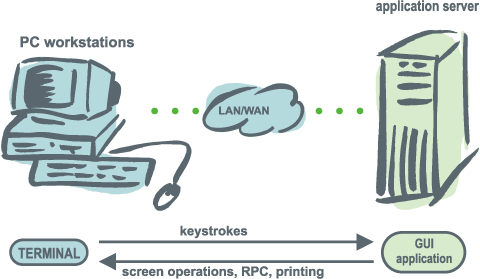 Terminal execution of Windows applications.
For local area networks...
Times, when terminal architecture was suitable for wide area networks only, are over. In the terminal architecture applications are installed and executed on the application servers only, so substantial system administration cost savings can be accomplished even for a local area network operation.
... and for wide area networks
A very effective communication protocol is implemented in Terminal GUI, in order to minimize the transfer of data between the application and the user terminal. At the same time, it reduces the reaction time of the application to keyboard and mouse inputs from the terminal. The content of the console buffer is sent in character mode, which greatly reduces the network traffic. The effective communication protocol makes this software very well suited for application in wide area networks. Even low throughput network connection can be used to connect several to dozens of terminals. The work comfort is only marginally inferior to the conditions of a local area network.
The concept of centralized data processing is important for applications used for business management. It means that all information for a multi-branch establishment or business is stored in one location, and is always up-to-date, complete and ready for processing. Operations which formerly required outside coordination between branches (e.g. selling stock from a warehouse belonging to another branch) are now straightforward. Complicated replication and synchronization mechanisms are not required anymore.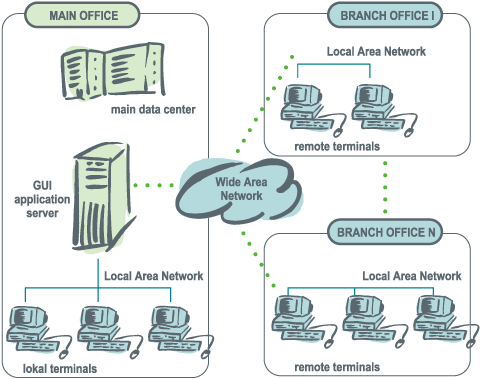 Centralized system architecture based on Terminal GUI technology.
Main features of the software:
Documentation
Terminal GUI - User's manual and Programmer's manual are attached to the installer.
System requirements
Application server
| | |
| --- | --- |
| Processor(s): | Recommended multi-processor or multi-core server |
| System: | Windows XP/2003/Vista/2008/7/8/2012 |
| RAM | depending on the application, minimum 16MB per session |
Terminals
System:
Windows
Linux
Android